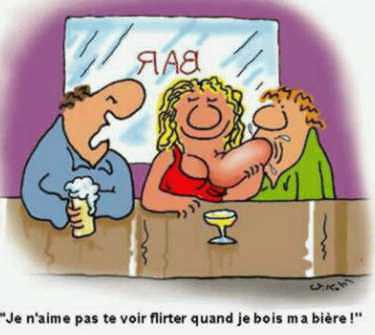 Flirting can be a way of showing genuine interest in a potential spouse. There are a few ways to approach it and here are 10 quick tips when flirting with someone that will get you a step closer to that first initial date.


Flirting 69

1. Have Fun: Some men like those hard edge men but be as playful as possible. It also helps to be light hearted and spontaneous. If you show your vulnerability it shows you aren't so hard edge all the time it shows a soft side shows you are human and you have emotions.

2. Start The Conversation: In our culture it is customary to say things like "wassup" and the dreaded "wus good." Leave that shit in the garbage where it belongs. A simple hello or hey would suffice. Talk about whats going on around you. Or even ask a question or ask for help....that goes back to showing your vulnerability which could be a turn on for some.

3. Bring Props Along: If you are anti social and do not know how to talk about things why not have a helping hand? An ideal prop could be a dog, great smelling cologne, interesting clothing, reading material, hell even children. These things always encourage conversation.

4. Making Eye Contact: This is always a little tricky. Everyone takes it differently. It is ideal to gently glance at someone for about 2 to 4 seconds. Please do not give them the "bitch please" stare or look at them for a long time because that is very stalker like.

5. Giving Compliments: If you did not make the initial contact why not let them know you are interested by giving them a compliment back. By doing that you let someone know that you have noticed them as well. I always have problems receiving compliments [self esteem issues] but the proper response to a compliment is a simple "thank you" and to shoot that bitch right back at them.

6. Smiling Always Helps: Smiling and laughing is always contagious. Being in a good mood makes you more approachable than anything.

7. Make The First Move: Move a little closer to the person you want to meet and say "hi." Trying to talk from a far...not cute!

8. Why Not Be The Host: For that second encounter instead of being the guest why not be the host. He has already showed he is a welcoming person....why not you?

9. Listen Listen Listen: Please listen as much as you talk. Do not dominate the entire conversation and leave someone else speechless. Listening as much as speaking encourages mutual conversation and allows both of you to be comfortable.

10. That's Your Attitude: Flirting is an attitude. A good flirt is self confident and is not afraid to take risks. It helps to be positive and as enthusiastic as possible.