Is your sex life a little on the dull side? Have you considered bringing sex toys into the picture? That is one way to bring some excitement into the game. Thank goodness I am here to help save your sex life and to make it exciting for you and your partner with some new things!


↓Click "Continue Reading" For More↓
When it comes to solo work...the best sex toy you can have is none other than a pack of batteries. They can bring you hours and hours of pleasure! Whether its a magic wand to a vibrator you can't get your groove on if you do not have the
proper batteries!


What about those times when your man isnt there? Welly why not clone his dick so you can put it on the night stand lol. The beauty of this Clone-A -Willy kit is that it is a soap on a roap kit. So with this every time youre washin your body wash it with soap shaped like his dong!


Continuing the issue of being in the shower, these Perfect Position handles stick to your walls easily! These can help you keep your balance or even maintain leverage and at the same time enjoy the hot ass water running on you and your partner.


Do you want to give your man oral pleasure but you have a super gag reflex?? Thank god for Deep Throat Gel. THe way it works is the gel mildly numbs the throat to help add inches and excitement during oral sex. This has a fresh menthol flavor and gently relaxes throat muscles to enhance the entire experience for you, your partner, and his tally wacker.


Want to have your posture and position near perfect for your partner to insert? Well there is the Liberator wedge that also comes with
wrist restraints and a blindfold for added excitement.

We have all seen those videos where ppl are all strapped up in a sling but hey that can really turn your man on. The sling is going to help you try out a vast variety of positions. The harness is fuly adjustable and very comfortable [not that i would know lolz].


Are handcuffs too typical for you? Then what about thigh and wrists cuffs! For those times you're on your back those cuffs will defintely help keep your legs high in the air.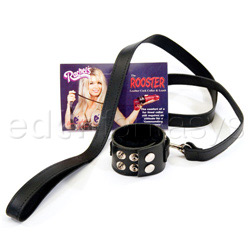 For those of you who are into a little of the S&M thing why not find a little fun doggy style than with a really cute leash? The way I can see it being hot is lets say you're being ridden and then your man is pulling on it to bring you up to kiss on your neck....mMm thats hot. Along the lines of keeping it light with a cute little blindfold. That way you do not know whats cuming up behind you lolz.